Description
Team T-Force Delta RGB 64GB (2 x 32GB) DDR4 3200 XMP 2.0 Desktop Memory
Details :
Capacity
64GB (2 x 32GB)
Type 
288-Pin DDR4 SDRAM
Speed 
DDR4 3200 (PC4 25600)
CAS Latency 
16
Timing 
16-18-18-38
Voltage 
1.35V
ECC 
No
Buffered/Registered 
Unbuffered
Multi-channel Kit
Dual Channel Kit
Chipset
Intel XMP 2.0
Color
White
Heat Spreader
Yes
Features
Full frame 120 degree ultra wide angle lighting

Built-in Force Flow RGB lighting effect

Aluminum alloy heat spreader with asymmetric minimalist design

Supports ASUS Aura Sync software synchronization

Latest JEDEC RC 2.0 PCB

Energy saving 1.2V~1.4V ultra low working voltage

Supports XMP2.0 one-click overclocking technology

QVL approved by all mainstream motherboard manufacturers

LED Color
RGB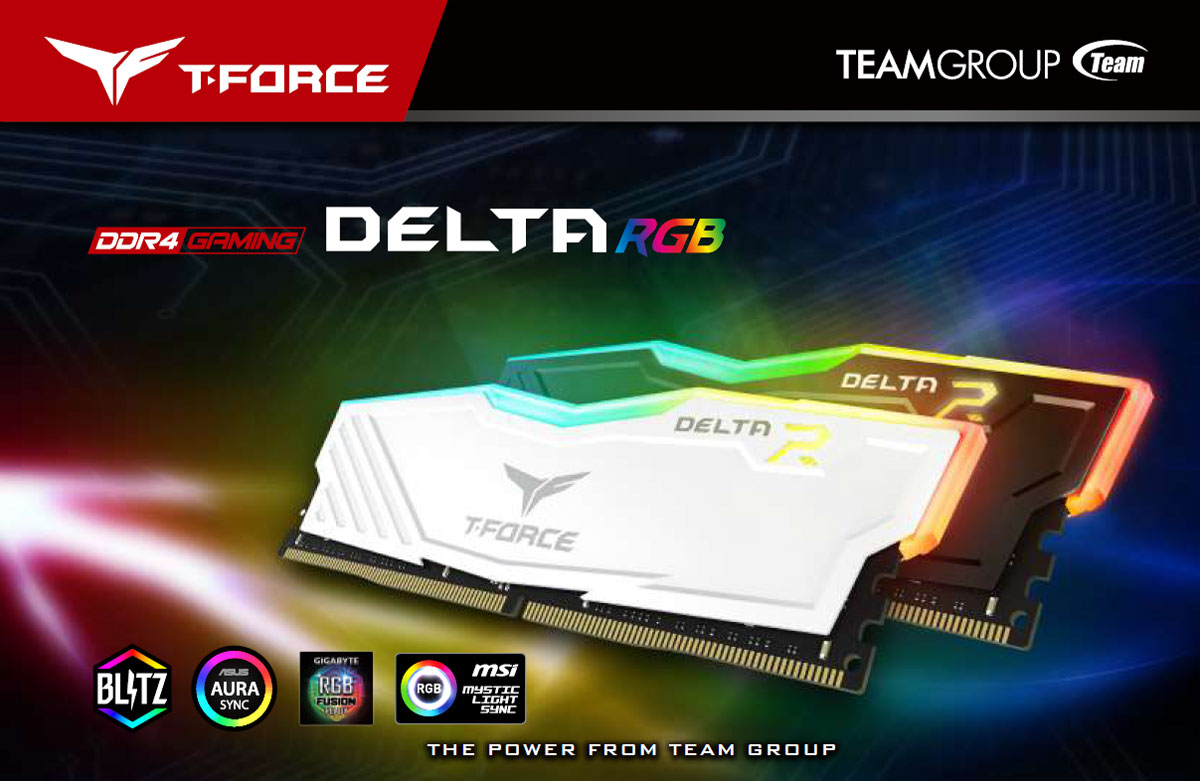 A marriage of performance and style
Animate your rig with captivating LED colors and effects. The T-Force Delta RGB's built-in LED bar looks striking when lighted up, with a premium quality heat spreader that complements the look. Performance-wise, the T-Force Delta RGB is built using superb materials, tested to rigorous standards, and supports the latest JEDEC RC 2.0 standards in which the PCB power trace and data trace are separated farther for better signal clarity and less interference. Moreover, this memory supports XMP 2.0, so you can overclock the memory frequency with simple mouse clicks, no need to mess with the BIOS.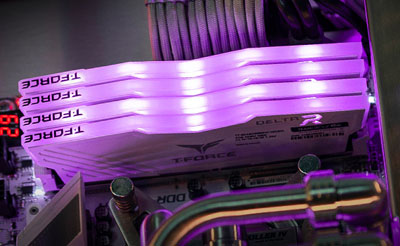 Pursuing the Perfect Revolution
TEAMGROUP T-FORCE gaming series once again released the all new luminous memory module—DELTA RGB. The R on the heat spreader represents Revolution, and also stands for creative concept with an uncompromised spirit. The heat spreader is built with lighter, thinner and high quality metal material. The colorful light changes make the hollow "R" on the front even more stereoscopic, and echo the ultra wide angle luminous area. The extraordinary Revolution will provide players a new experience never seen before.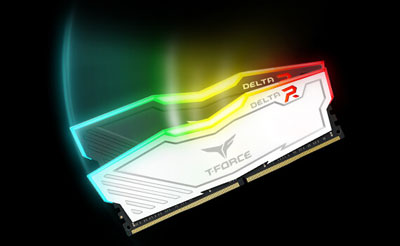 Dazzling Force Flow Lighting Effect
DELTA RGB is using full color, dazzling RGB LED lighting with force flow effect. Like a Jedi holding the lightsaber, players can be invincible in the gaming world. T-FORCE LOGO is like a warrior's badge, standing still in the changing lights. The full frame, 120° ultra wide angle luminous area at the top emits colorful bright light. The color of the light changes smoothly to provide players an unparalleled visual feast, no matter it is day or night.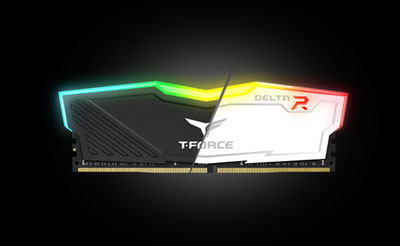 Asymmetric Minimalist Design
The one piece, geometric line design makes the heat spreader looks simple but energetic, and the Cubist style in the new art movement is also presented, which is a perfect combination of technology and aesthetics. The embossed lines on the surface not only increase the heat dissipation area and also effectively enhance cooling of the memory module, so the quality of the operation can be finely stabilized.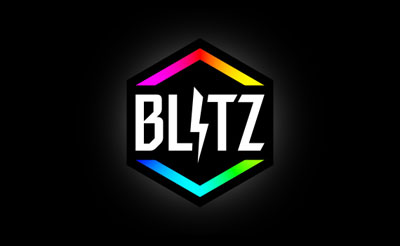 T-FORCE BLITZ (Beta Version) Control Software
T-FORCE DELTA RGB offers full-color, variable, synchronized lighting. The lighting and synchronization can be controlled by the free-download T-FORCE BLITZ (beta version). Besides, you can express yourself by customizing your own lighting display. No matter which you choose, it is sure to look cool.

Support for 3rd Party LED Control Solutions
T-FORCE DELTA RGB memory module supports ASUS Aura Sync / GIGABYTE RGB Fusion / MSI Mystic Light Sync*. These pieces of lightning control software allow gamers to control lighting effects and lighting synchronization with T-FORCE DELTA RGB luminous memory module. It creates unique, dazzling color aesthetics and offers a brilliant RGB system!
* T-FORCE DELTA RGB supports ASUS AURA Sync which can control the lighting effect and achieve complete synchronization of lighting effects.
T-FORCE DELTA RGB is compatible with GIGABYTE RGB FUSION /MSI Mystic Light Sync and some system lighting synchronization effects, but the system lighting synchronization functions with RGB FUSION will only be possible once GIGABYTE/ MSI updates its software.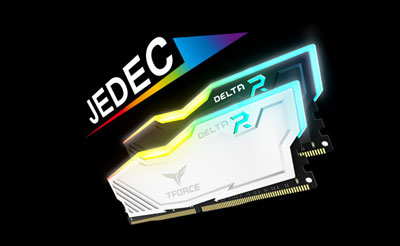 JEDEC RC 2.0
Using the latest customized JEDEC RC 2.0 circuit board to increase the distance between the power layer and the signal layer. Compared to ordinary memories, the transmitting signal is raised by 35%. There will be no interference between the power and the signal, promoting better performance. It completely unleashes the transmission speed of memory module, and offers players the ultimate sensation of overclocking and a highly stable overclocking memory module.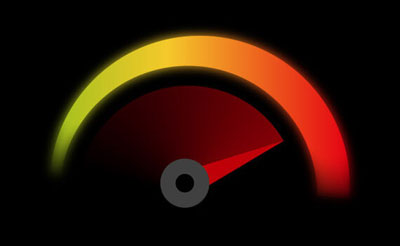 XMP2.0 – One Step Overclocking Technology
DELTA RGB series supports Intel XMP 2.0. It is only one step away to experience the high speed sensation of overclocking.

Ultra Low Working Voltage
With low working voltage 1.2~1.4V, it does not only save energy up to 40% but it can also reduce the temperature and the heat generated to offer the high speed running memory a stable and long time operation.

QVL Approved by Motherboard Manufacturers
Multiple compatibility verifications with mainstream DDR4 motherboards make sure its stability with all motherboards on the QVL (Qualified Vendor List). Therefore, you wouldn't' have to worry about compatibility issues when purchasing high speed memory.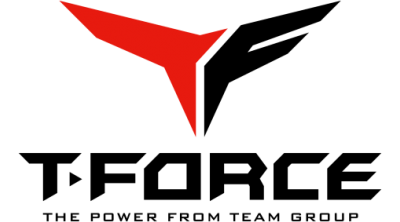 T-FORCE
T-FORCE is TEAM force. The red "T" on the logo of "TF" represents TEAMGROUP's passion for the storage products. The black "F" represents TEAMGROUP's over 18 years of promotion of storage products. The visual design of the perfect combination elegantly symbolizes a pair of flying wings. They represent that the high quality and extreme performance gaming products from TEAMGROUP are capable of allowing all gamers to break the speed limit and enjoy the ever-changing world of gaming.